DEAR COLLEAGUES
It gives me great pleasure to extend to you all a very warm welcome as Chairman of the 11th Saudi Arabia Neurosurgical Society (SANS) and 2nd Arab Pediatric Neurosurgical Society (APNS) Joint Conference from 07th to 10th of April 2017 to be held in Kempinski Burj Rafal Hotel, Riyadh, Saudi Arabia.
As we all know, the annual meetings' of SANS is one of the largest neurosurgery meetings in the Middle East and the largest in the region. More than 1000 guests from both local and international institutions attended the last Annual Meeting. Both APNS and SANS have the same aim to enhance the knowledge and expertise in order to provide the best service to our patients. We are looking forward for more attendees this upcoming event as this year's event is truly exciting and extra special.
This year's theme will be "Invention Innovation and Technology Transfer". The meeting will be focusing on the technical advancement of Neurosurgery in the field of Inventions and Innovation which will lead to more surgical confidence. This is part of our aim for continuous improvement and to maintain the high level of expertise, scientific knowledge and training programs. We hope that through this we can motivate everybody to think of innovation and we will provide information of how to transfer these ideas into inventions.
Before I close, I'd like to again to invite you to join us and bring your expertise to our gathering. You, as organization leaders, have the vision, the knowledge, the wherewithal and the experience to help us pave our way into the future. You are truly our greatest asset today and tomorrow, and we could not accomplish what we do without your support and leadership. My personal respect and thanks goes out to all of you.
I am looking forward seeing you in 2nd APNS Meeting and SANS 2017. Save the date. We promise it to be a most stimulating and enjoyable event!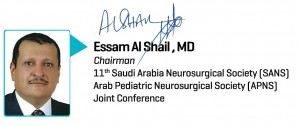 DEAR COLLEAGUES
On behalf of the Scientific Committee; it gives me great pleasure to welcome you to the 11th annual meeting of the Saudi Association of Neurological Surgery (SANS). Our understanding of life and matter in the 21st century is rapidly evolving; this stems from the new scientific discoveries and the emergence of new technologies that facilitated knowledge exchange. The field of neurosurgery is directly, and indirectly, impacted by these changes which is affecting the way we manage neurosurgical diseases. We believe that our specialty deals with the most complex structure known to man, the Central Nervous System (CNS), which demands us to be part of this revolution. Thus, we dedicated this year's meeting to introduce and explore new inventions, latest technologies and the endless opportunities they create to advance our filed.  The theme for this year meeting is "Invention, Innovation and Technology transfer".
An exciting and powerful program is being prepared with contributions from prominent national and international speakers from renowned institutions around the world. The conference is preceded by a full day of pre-conference courses and workshops dedicated to topics related to our filed. The pre-conference activities are designed to provide knowledge, recent updates, and skills which would be of value to many disciplines and specialties dealing with neurological diseases. The courses are aimed to benefit medical students, residents, trainees, specialists, and consultants.
We also continued our annual tradition of conducting the students research competition which will be held at the same evening of the pre-conference day.
The focus of three-day scientific program will be on latest advances in medicine in general and neurosurgery in particular. The program is further divided in to sessions that include; invention in neurosurgery, translational research, and cutting edge research in neurosurgery. Special sessions are dedicated to discuss the application of these new technologies in our daily practice. This year we added two new sessions; "Neurosurgery in Saudi Arabia; the 2030 vision" which will bring to light the new changes, growing challenges, and the future of the filed in the Kingdom. And "How I do it" which is conducted by the world expert in complex neurosurgical approaches. Focused sessions divided between neurosurgery sub-specialties will be also conducted.
Save the date and we look forward to seeing you in SANS 2017.
DEAR COLLEAGUES
On behalf of the scientific program committee of APNS, I welcome you to Riyadh for the 2nd APNS Annual meeting.
This year we are pleased to be partner with SANS, who has been instrumental in planning our meeting along with SANS 11th Annual meeting represented in Dr. Essam Al Shail the president of the conference.
Centered on our Theme, invasion, innovation, and technology transfer, our daily scientific sessions address the needs for technology and the challenges we as neurosurgeons face it in our daily practice, and the quest we embark on to ensure our specialty future.
It's our responsibility to advance the field of neurosurgery through the knowledge and techniques, with the needs to engage in principle partnerships with industry on technology and innovation.
I hope that you will enjoy the academic and social events, and look forward to seeing you in Riyadh.
Sincerely